Rocket Challenge
Level 3, Year 5–6
Term 2
Houston, we have lift off! Watch young Kiwis' fascination with STEM skyrocket by signing up for the Wonder Project Rocket Challenge.
Step into the role of Mission Command and support students as they design, build and launch their own water rockets. While the rockets are flying, students will learn about Newton's laws, the engineering design process, and working as a team.
Operating in Term 2, the Rocket Challenge provides scaffolded learning aligned to Level 3 of the New Zealand school curriculum. We provide everything you need to take part in the challenge, totally free of charge – training videos, detailed lesson plans, teaching material and resources, and a challenge kit.
We pair volunteer industry ambassadors with classes to help bring the challenge to life. By working together, kid's aspirations are raised, future careers illuminated and learning is supported.
The Rocket Challenge is also available with te reo translated student activities.
Newton's laws of motion

Rocketry

Teamwork

Physics concepts

Engneering design process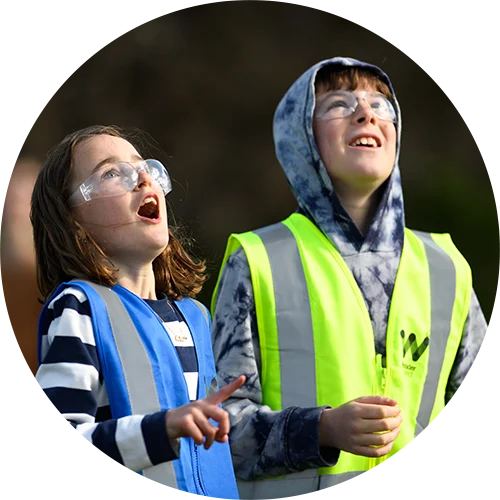 Impact
Here's what participants said about the 2023 Rocket Challenge:
94% of teachers increased their confidence in teaching STEM
98% of teachers and 81% of students said they would do it again
53% of students were more interested in STEM jobs after the challenge
92% of teachers said students were engaged with the programme
96% of ambassadors would recommend the experience to others
How it works
Any teacher or industry STEM professional in Aotearoa can register their interest to take part. They must be available to participate in Term 2. They then complete some easy-peasy online training and we contact ambassadors to assess their suitability. Once mission is a go, we work to match every school and volunteer Wonder Project Ambassador so they can provide the best learning experience for students. We then send out access to our online Learning Hub packed with all the student learning content and teaching guides, and send out our epic free rocket kits.
Register your interest online

Complete easy online training

Get matched with a local school or STEM professional

Receive free rocket kit

Inspire students with the Rocket Challenge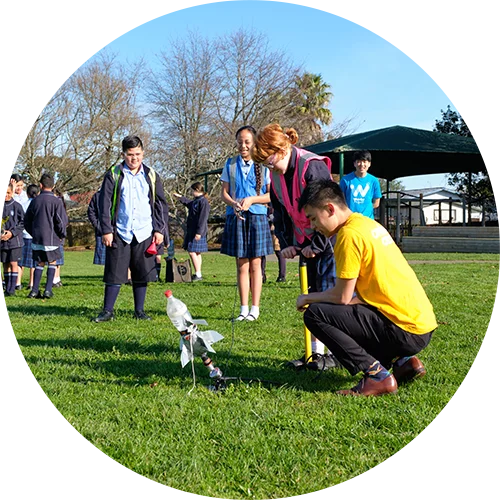 Rocket Challenge Ambassadors
If you're a STEM professional, we'd love you to join our network of Wonder Project Ambassadors. You'll get all the training you need to support a teacher in their classroom for the Rocket Challenge. There's no need to be a rocketry expert to get involved! Our online Learning Hub will also support you throughout the challenge with 6 modules that guide you, teachers and students.
It's easy to get involved – simply sign up online. We'll get in touch to discuss what's involved, send you a criminal conviction declaration to complete, and get you started with online training. We'll then match you with a local participating school.
The challenge takes students 1–2 hours per week for 6–8 weeks to complete, but you only need to be available for at least 3 hours during the challenge to visit the classroom.
Register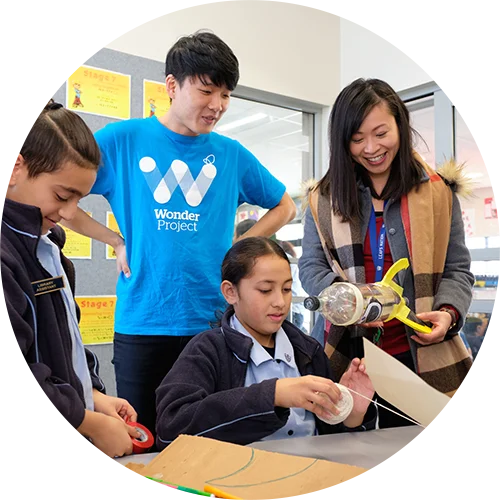 Rocket Challenge Teachers
Getting your class involved is easy. Simply sign up online – each teacher that wants their class to participate needs to register. Then we provide you with some basic training and try to match you with a local STEM professional who will be your Wonder Project Ambassador.
Before the end of Term 1, you'll receive access to our online Learning Hub with the 6 Rocket Challenge modules, and your free rocket kit! Your kit will include a rocket launcher and safety gear for your students. You'll need to supply your own soda bottles for rocket bases, recycled materials for fins and parachutes, and a bike pump.
To complete the challenge, you'll need to allow 2 hours per week for 6–8 weeks. Your ambassador will be available for at least 3 hours during the challenge, so use their time wisely!
Register
Join the Rocket Challenge!
The 2023 Rocket Challenge is now closed for sign ups. Register your interest for 2024.
Register