Power Challenge
Level 4, Year 7–8
Term 3
Power up! Students design and build a wind turbine and light up their own mini town. Along the way they'll discover the amazing phenomenon of electricity and renewable energy, and learn how teamwork can keep the lights on.
Operating in Term 3 as a second phase pilot in 2022, the Power Challenge provides scaffolded learning aligned to Level 4 of the New Zealand school curriculum. Teachers are supported with detailed lesson plans, teaching material and resources, a free challenge kit, and where possible a volunteer industry ambassador to help them in areas they may not feel so confident.
ENERGISED BY

Electricity

National power grid

Teamwork

Renewable energy

Engineering design process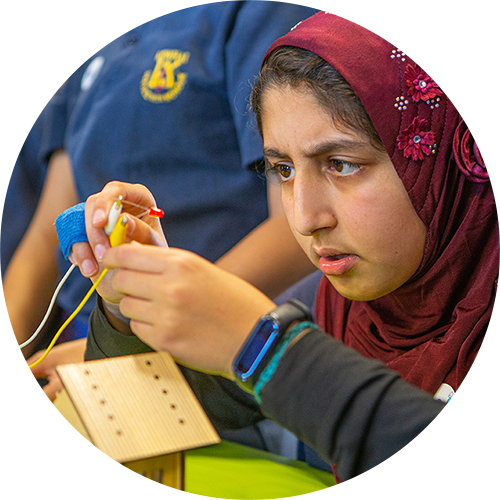 How it Works
Any teacher or industry STEM professional in Aotearoa can register their interest to take part. They must be available to participate in Term 3. They then complete some easy-peasy online training and we contact ambassadors to assess their suitability. Once buzzing to go, we work to match every school and volunteer Wonder Project Ambassador so they can provide the best learning experience for students. We then send out access to our online Learning Hub packed with all the student learning content and teaching guides, and send out our epic free power pack kits.
Register your interest online

Complete easy online training

Get matched with a local school or STEM professional

Receive free power pack

Inspire students with the Power Challenge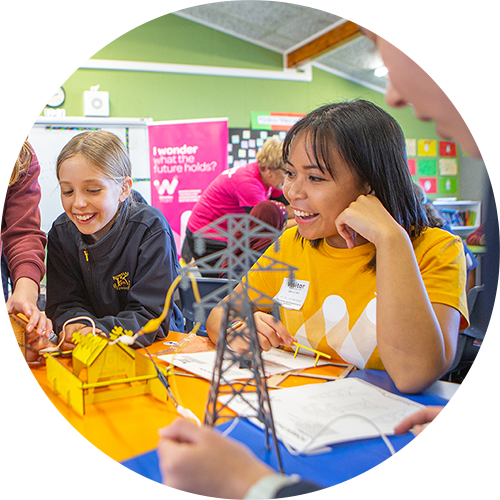 Power Challenge Ambassadors
If you're a STEM professional, we'd love you to join our network of Wonder Project Ambassadors. You'll get all the training you need to support a teacher in their classroom for the Power Challenge. There's no need to be an engineer to get involved! Our online Learning Hub will also support you throughout the challenge with modules that guide you, teachers and students.
It's easy to get involved – simply sign up online. We'll get in touch to discuss what's involved, send you a criminal conviction declaration to complete, and get you started with online training. We'll then match you with a local participating school.
The challenge takes students 1–2 hours per week for 4–6 weeks, or two full days, to complete, but you only need to be available for at least 3 hours during the challenge – either in person or online.
Sign up
Power Challenge Teachers
Getting your class involved is easy. Simply sign up online – each teacher that wants their class to participate needs to register. Then we provide you with some basic training and try to match you with a local STEM professional who will be your Wonder Project Ambassador.
Before the end of Term 2, you'll receive access to our online Learning Hub with the 6 Power Challenge modules, and your free power pack! Your pack includes everything you need to build a tiny town and power it. You'll need to supply basic classroom materials and recycled materials for building wind turbines.
You can choose one of two ways to complete the challenge – spend 1–2 hours per week on each module across a period of 4–6 weeks, or, complete the challenge in two full days. Your ambassador will be available for at least 3 hours during the challenge, so use their time wisely!
Sign up
Join the Power Challenge!
Registrations for the Power Challenge are now open for Term 3 2022!
Sign up