Teachers
The Wonder Project is Engineering New Zealand's free programme for schools that fits seamlessly into the New Zealand school curriculum. Each school is supported by a team of industry professionals, from the likes of Rocket Lab, Air New Zealand, Xero and other well-known organisations around New Zealand.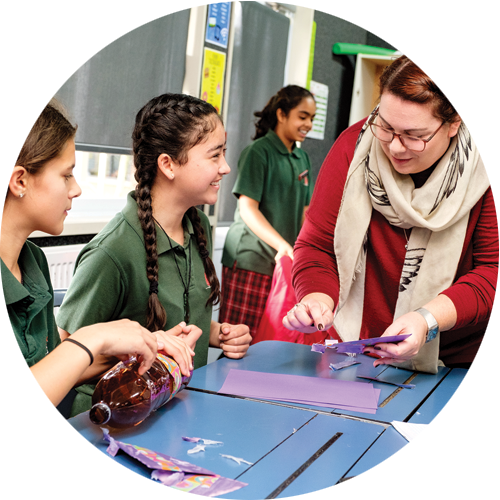 How it works
Our primary mission is to get young Kiwis excited about a career in science, technology, engineering and maths. The project includes a series of hands-on programmes that are designed to fit seamlessly into the New Zealand school curriculum from Year 5–13. The success of the project is based on teachers and Wonder Project Ambassadors working as a team to show students how exciting STEM can be.

"It's a hands-on, fun way to explore the learning areas of STEM. Students had to work through a process to see success. Everyone was so engaged and excited throughout the project."
Rebekah Gage
Teacher - Conifer Grove School
Programme outline
We'll pair you with a passionate STEM professional and the resources you need to run the Wonder Project successfully in your classroom.
Talk to your Principal

Register your class online

Get paired with a STEM professional

Receive your free challenge kit

Run a programme for 6–8 weeks over a term
How much time it takes
For the Rocket and Plant Challenges, you'll need an hour to meet with your Wonder Project Ambassador before you start running the programme in your school and some time to complete a preparation module. Then, once the programme starts, you'll need to allow 1–2 hours each week for 6–8 weeks. For our STEM Careers programme, talks are provided on an ad hoc basis and run for 30–40 minutes.

Know nothing about STEM?
Don't be nervous – we'll give you all the resources you need, plus an industry professional that's a STEM expert. Once you've been accepted into the Wonder Project, you'll have access to resources that will show you how to run our three programmes easily.

Working with your ambassador
You'll be working alongside a Wonder Project Ambassador who is an expert in their field. So, even if you don't have a STEM background, you can still run the Wonder Project! Working hand-in-hand with an ambassador means you and your students get all the specialist support you need to run the programme you select over a school term. You'll need to meet up with your ambassador beforehand so you're prepared with everything you need to run the programme successfully.

How to get your school onboard
Running the Wonder Project programmes at your school takes time and resources. You'll need some good reasons to get your Principal to give you the go ahead. Start by telling them that the Wonder Project is an opportunity to:
work with industry professionals and upskill
get young women interested in STEM
inspire a new generation of STEM professionals
show students that STEM is fun
enhance the student experience with the NZ curriculum.

Engineering New Zealand is here to support you
The Wonder Project is Engineering New Zealand's programme for schools and we'll be with you every step of the way. We'll be in touch with you before, during, and after the project, making sure you feel comfortable and supported. We have a dedicated team who will be available to answer your questions Monday to Friday.