Rocket Challenge
Year 5–8
Term 3 2020
Over 6–8 weeks in Term 3, students work with their teacher and Wonder Project Ambassador to design, build, and launch their very own water rocket. The programme has been designed to align with Level 4 of the teaching curriculum. That's one small step for a student, one giant leap for New Zealand's STEM industry.
We pair schools with STEM professionals to support their teaching and provide resources to successfully run the programme.
Newton's laws of motion

Rocketry

Teamwork

Creative thinking
How it works
Teachers and STEM professionals register their interest to take part. They must be available to participate in Term 2. We then send some extra information and contact ambassadors to assess their suitability. The next step is to complete some basic online training, before being matched with a local school or STEM professional. We then send out access to our online learning hub, and courier our epic rocket kits to schools, ready for you to blast off!
Register your interest online

Receive more information from us

Complete basic training online

Get matched with a local school or STEM professional

Inspire students with the Rocket Challenge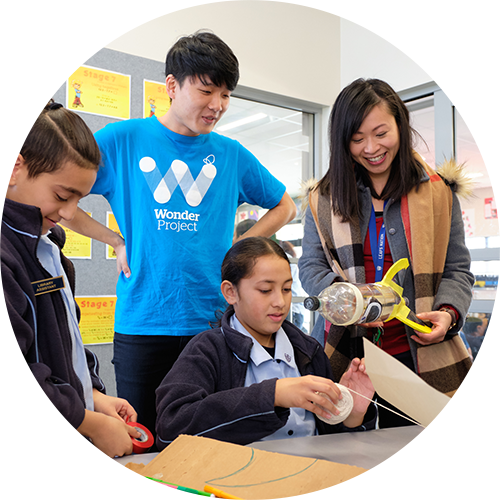 Rocket Challenge Teachers
Getting your class involved is easy. Simply sign up online – each teacher that wants their class to participate needs to register. Then we'll be in touch with more information and a link to some short online training on the Rocket Challenge, before we match you with a local STEM professional who will be your Wonder Project Ambassador.
Before the end of Term 2, you'll receive access to our online learning hub with the 7 Rocket Challenge modules, and your free rocket kit! We allow one kit for up to two classes, but you can purchase extras in our online store (coming soon). Your kit will include a rocket launcher and safety gear for your students. You'll need to supply your own soda bottles for rocket bases, recycled materials for fins and parachutes, and a bike pump.
You'll need to allow 2 hours per week for 6–8 weeks to complete the challenge. Your Ambassador will be available for 1 hour a week, so use their time wisely!
Join the waiting list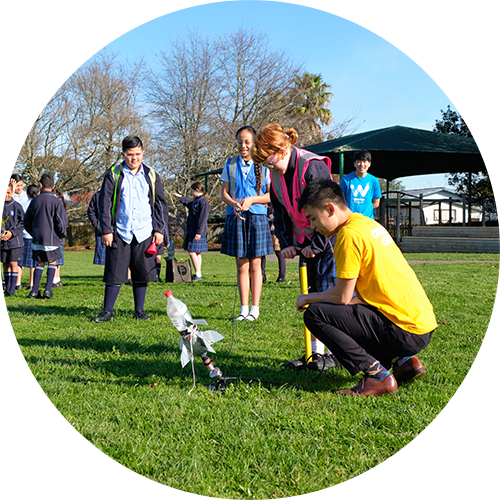 Rocket Challenge Ambassadors
If you're a STEM professional, we'd love you to join our network of Wonder Project Ambassadors. You'll get all the training you need to support a teacher in their classroom for the Rocket Challenge. Induction training gets you up to speed with all things Wonder Project. Then specific Rocket Challenge training gives you lots of tips for engaging with kids on tricky subjects like Newton's laws. There's no need to be a rocketry expert to get involved! Our online learning hub will also support you throughout the challenge with 7 modules that guide you, teachers and students.
It's easy to get involved – simply sign up online. We'll get in touch to discuss what's involved, get you to complete a criminal conviction declaration, and get you started with online training. We'll then match you with a local participating school.
The challenge takes students 2 hours per week for 6–8 weeks to complete, but you only need to be available for 1 hour a week.
Sign up now
Join the Rocket Challenge!
We're not currently taking registrations for the Rocket Challenge running in Term 3 2020.
Join the waiting list